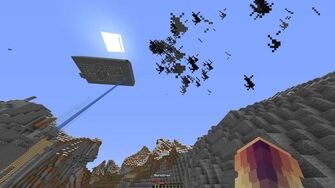 Seeker Shots
Seeker Shots Is A Magic Ranged Weapon.
It can shoot a maximum of 3 seeking projectiles.
Effects
When used a black sphere will appear which, when enemies that can be hit by it are nearby, will split into a maximum of 3 projectiles. When there are less than 3 enemies there will be less probjectiles. Each projectile deals 18 damage (9 Hearts).
Weakness
The Seeker Shots Needs Open Air Space Above It , If Theres Not Enough Open Air Above It The Projectile Will Explode On The Block Above Making The Item Become Useless , For Exaple In Haunted Manor Boss (Headless Horse Man)