The market, or the marketplace is the main hub that the servers economy is run through. Players can sell many different types of materials that they either farm, mine, hunt, etc. to different Vendors.
You can get to the market by following the covered path by the river in spawn with the hologram labeled "Market" as well as using the /warp market command.
Vendors
Vendors buy different materials from players, with each vendor having a theme of items that they purchace.
Each Material has a max limit you can sell to a vendor before they ship it off and you must wait another hour to sell more. This limit usually comes out to be around 10,000 - 30,000 an hour. To use this system to your advantage it is best to diversify the materials you are farming and selling, possibly selling overflow materials to other players.
Mining Vendor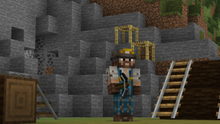 Purchases mined resources
| Items | Cobblestone | Coal Block | Redstone Block | Lapis Block | Iron Block | Gold Block | Diamond | Emerald Ore |
| --- | --- | --- | --- | --- | --- | --- | --- | --- |
| Sell Price Per Item | 0.25 | 40 | 70 | 100 | 115 | 225 | 1000 | 2000 |
| Max Sell # | 10000 | 100 | 150 | 100 | 150 | 125 | 100 | 15 |
Farming Vendor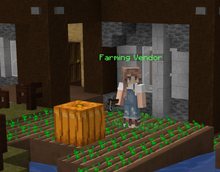 Purchases farmed goods
| Items | Cactus | Sweet Berries | Beetroot | Potato | Carrot | Melon | Pumpkin | Apple |
| --- | --- | --- | --- | --- | --- | --- | --- | --- |
| Sell Price Per Item | 5 | 8 | 8 | 9 | 10 | 35 | 35 | 100 |
| Max Sell # | 5000 | 2500 | 2500 | 1500 | 2500 | 640 | 640 | 200 |
Butcher Vendor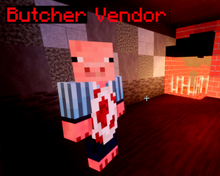 Purchases various farm animal / fishing items
| Items | Raw Cod | Raw Salmon | Raw Rabbit | Raw Chicken | Raw Porkchop | Raw Mutton | Raw Beef | Rabbit's Foot |
| --- | --- | --- | --- | --- | --- | --- | --- | --- |
| Sell Price Per Item | 17 | 27 | 65 | 90 | 140 | 180 | 200 | 500 |
| Max Sell # | 500 | 500 | 100 | 100 | 100 | 100 | 90 | 15 |
MobDrop Vendor
Purchases Different monster drops
| Items | Rotten Flesh | String | Prismarine Shard | Ender Pearl | Spider Eye | Bone | Blaze Rod | Gunpowder | Slime Ball | Phantom Membrane | Magma Cream | Ghast Tear |
| --- | --- | --- | --- | --- | --- | --- | --- | --- | --- | --- | --- | --- |
| Sell Price Per Item | 7 | 7 | 7 | 8 | 8 | 11 | 15 | 80 | 95 | 100 | 80 | 225 |
| Max Sell # | 3000 | 3000 | 3000 | 2750 | 2751 | 2500 | 2000 | 400 | 300 | 300 | 500 | 150 |
Chef Vendor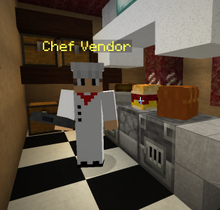 Purchases baked goods and other foods
| Items | Sugar | Baked Potato | Cookie | Bread | Mushroom Stew | Pumpkin Pie | Cake |
| --- | --- | --- | --- | --- | --- | --- | --- |
| Sell Price Per Item | 7 | 10 | 13 | 15 | N/A | 55 | 100 |
| Max Sell # | 2000 | 500 | 1250 | 1000 | N/A | 200 | 100 |
Potion Vendor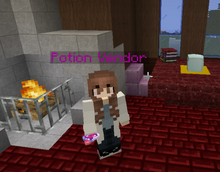 Purchases different brewed splash potions
| Items (Splash Potion) | Weakness (4:00) | Slowness IV (0:20) | Instant Damage II | Instant Health II | Invisibility (8:00) | Night Vision (8:00) | Water Breathing (8:00) | Turtle Master | Jump Boost II |
| --- | --- | --- | --- | --- | --- | --- | --- | --- | --- |
| Sell Price Per Item | 65 | 70 | 75 | 85 | 95 | 100 | 90 | 120 | 275 |
| Max Sell # | 100 | 100 | 100 | 100 | 100 | 100 | 100 | 100 | 100 |
Treasure Vendor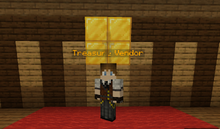 Purchases more rare, uncraftable items
| Items | Saddle | Name Tag | Sponge | Shulker Shell | Totem of Undying | Nautilus Shell | Heart of the Sea | Enchanted Golden Apple |
| --- | --- | --- | --- | --- | --- | --- | --- | --- |
| Sell Price Per Item | 1500 | 2000 | 3000 | 4000 | 7500 | 10000 | 12500 | 20000 |
| Max Sell # | | | | | | | | |
Egg Shop

Sells mob eggs to the player
| Items (Spawn Egg) | Pig | Sheep | Cow | Horse | Cat | Wolf | Fox | Ocelot | Polar Bear | Panda | Villager | Dolphin |
| --- | --- | --- | --- | --- | --- | --- | --- | --- | --- | --- | --- | --- |
| Buy Price Per Item | 10000 | 15000 | 16000 | 18000 | 20000 | 20000 | 30000 | 30000 | 35000 | 40000 | 50000 | 50000 |
| Max Buy # | | | | | | | | | | | | |